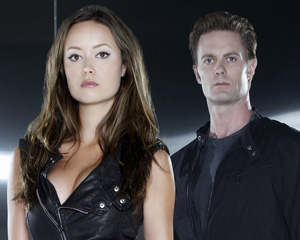 Have you been following Syfy's newest summer hit, Alphas? If you haven't, we have several reasons why you should start watching now! If you're a sci-fi fanatic, you'll recognize the roster of famous guest stars the show will introduce starting August 15.
First up on the list is Lindsay Wagner of Bionic Woman who currently plays Dr. Vanessa Calder on Alphas' sister show, Warehouse 13! In a surprising crossover, Alphas and Warehouse 13 will co-exist in the same universe as Wagner reprises her Warehouse role in Alphas. On August 22, the week after Warehouse 13 x Alphas, Summer Glau of Firefly and Terminator: The Sarah Connor Chronicles will guest star in a yet-unknown role.
Other guest stars to watch for include Garret Dillahunt of Raising Hope; Rebecca Mader of Lost and Covert Affairs, who will appear with Brent Spiner of Star Trek: Next Generation; and Peter Wingfield of Caprica, who will appear with Alaina Huffman of Stargate Universe.
Are you excited to see your favorite actors on Alphas? Rebecca Mader is rumored to have a power that you must see to believe! Be sure to mark your calendars to catch them in action! Until then, tell us which actor you're most excited for at our poll!
Poll
Who are you most excited to see in Alphas?
Source
Community content is available under
CC-BY-SA
unless otherwise noted.