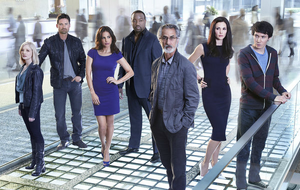 Rosen's Team is a collection of Alphas to whom Lee Rosen is providing treatment for their various conditions and also performing conduct missions assigned by Don Wilson, an agent for Homeland Security until he dies and is replaced by another Agent.
The team's office space was, at the time of the pilot episode, in a building located near a bowling alley. By the second episode, the group has moved from the compromised first location to a location implied to be on Skymark Avenue in the borough of Queens, New York. The members of the team have been given the cover of special agents with the Defense Criminal Investigative Service.
Founder
Lee Rosen: Without him, the team doesn't exist and its members do not function effectively. When Rosen was institutionalized for eight months between seasons, Nina reverted to pushing strangers on a whim, Hicks lost accuracy in his aim, Gary got reassigned to the NSA and then sent to Building 7 when his new co-workers refused to accommodate him (resulting in a meltdown that injured two of them), and Rachel refused to leave her room because she couldn't control her senses. Bill didn't suffer overtly on any way other than enduring the after-effects of his adrenaline rushes, which would happen regardless of Rosen's presence. When Rosen came back, his counseling quickly helped Rachel leave her room, Hicks regain his aim, and Gary regain verbal communication.
Starting Members
New Members