Photic Stimulator it's a medical device that uses visual stimulus to alter brain activities. It has the potential to enhance an Alpha's abilities and uncover laden
History
[
]
Stanton Parish used his Red Flag agents to manipulate Senator Charlotte Burton to allow the FDA to fast-track The approval of The Photic Stimulator so August Medical Could distribute the device to over 27,000 different hospitals. Medical Center began to use the devices in standard neurological tests. Parish Hoped that devices would create more powerful alphas to add to red flags or me and begin his alpha revolution. In New York City One of the devices with youth on a comatose Jason Miller, a young alpha who had sonic abilities. This led to Dr. Lee Rosen discovering the device and he chose to Confiscate from the hospital and take it to Skyler Adams. Rachel Pirzad and Skyler were able to use their combined abilities to discover that were improperly installed Nano processors embedded in the wires. Skyler was coerced by Red Flag to stick the device and make it work to its maximum capacity.
Mini Photic Stimulator
[
]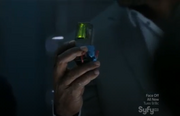 When Red Flag captured Skyler and Zoe Adams they used Vincent's influencer ability to manipulate Skyle into creating a miniature version of the full phonic stimulator device. The new version of the device was designed to be hooked up to a light source that would enhance an Alpha's abilities but would kill most humans who were exposed to the light. Parish conducted a series of attacks against New York City's power grid which tricked the government into installing grid protector devices in major cities across the nation. Red flag secretly provided these devices and had mini phonic stimulators Installed in them. This would allow for every device on the city's power grid to admit photonic visual stimulus.