Charlotte Burton

actress

Lauren Holly

first seen in

last seen in

status

Living

gender

Female

profession

Senator
Charlotte Burton is a senator for New York and a member of the Llamrei Foundation. She briefly served as the senate liaison to the Parish task force.
Season 2
Edit
Gary connects Stanton Parish's considerable fortune to a charity, the Llamrei Foundation. There are some donations to New York's Senator Burton and Rosen hopes that Nina can ask Burton what she knows about Stanton. Nina agrees to help and Rosen gives her the senator's schedule. Nina goes to the hotel where Burton is attending a fundraiser and approaches her in the women's restroom. They make small talk and then Nina uses her ability to make Burton tell her what she did for the Llamrei Foundation. Burton tells Nina that she can't tell her because the information is gone and Nina lets her go. Nina tells Rosen what Burton told her and Rosen figures that the information is there but out of reach. He suggests that Nina can try retrieving it by using her pull instead of push. Nina agrees and says that Burton is leaving on a red-eye flight. Satisfied that Nina can do it, Rosen takes her to the airport to find Burton before she leaves. At the airport, Rosen tells Bill that he'll be there as soon as he can. Nina spots Burton and they go over while Rosen asks about Kat scratching her hand. As they get to the lounge, Nina explains that Kat spent a lot of time in hospitals and someone held her hand to reassure her. Rosen asks her if she's sure she wants to help and Nina assures him that she is and goes to confront Burton. Nina draws on Burton's memories and gets a partial description. As the senator's aides knock at the door, Burton says that the man approached her about trial tests and recalls the month of August. The aides come in and Burton goes with them, and Rosen assures Nina that they'll figure out what August means.
In Washington, Nina and Rosen meet with Senator Charlotte Burton and Nina uses her ability to confirm that the senator has had every August Medical photic stimulator recalled and destroyed. Nina then has her give them all of the information and make sure that the import ban goes through. Once Burton leaves, Rosen realizes that Nina is having another headache but she says that she'll be fine. They notice that Burton has wandered out into traffic and Nina manages to get her off the street just in time. Nina gives her orders to go home again and Burton wanders off, seemingly dazed.
Later, Senator Burton is on the news talking about her new hardline stance on medical equipment imports. She begins to break down again, echoing Nina's orders, and then her handlers quickly get her away. Nina is watching the broadcast and tries to set up an appointment with the senator. Rachel comes in and asks what is going on. Nina tells Rachel that Burton is in the hospital from what she claims is exhaustion. Rachel points out that there's nothing to tie Burton's mental problems with the team. However, Nina insists that she has to get in and fix the problem she caused by giving them the files on how her power affects the mind. Rachel agrees but says that she has to bring Rosen in on her plan.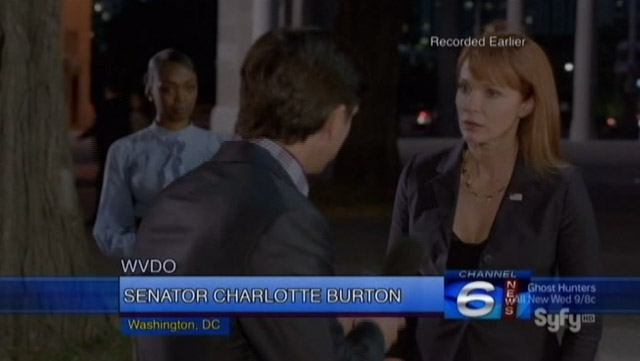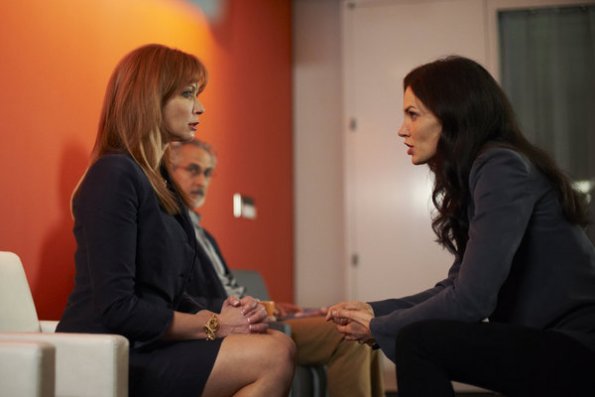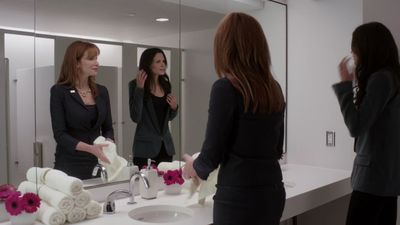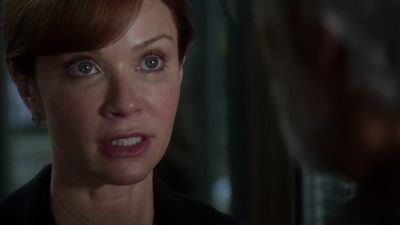 Community content is available under
CC-BY-SA
unless otherwise noted.